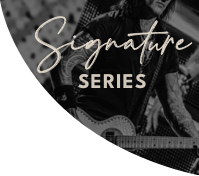 Signature Stratospheric Loft HSS - Lorenzo Pasini (PTN)
This pictures are referred to the model. The details of the body may change
Description
Signature Stratospheric Loft HSS - Lorenzo Pasini (PTN)
We are thrilled to announce our exciting collaboration with the talented Lorenzo Pasini, the renowned guitar player for the Italian band Pinguini Tattici Nucleari. Together, we have created a truly remarkable instrument that embodies both exceptional craftsmanship and Lorenzo's personal musical style.
At the heart of this collaboration was the goal of building a guitar that perfectly caters to Lorenzo's needs during the band's tour. To achieve this, we carefully crafted the instrument according to Lorenzo's exact specifications.
The body of the guitar has been painted in our well known heavy white color, representing the raw energy and intensity of Pinguini Tattici Nucleari's live performances. This distinctive visual element will undoubtedly catch the audience's attention and enhance the overall tour vibes. Furthermore, we incorporated a unique design element that holds special significance for Lorenzo and the band. The Pinguini Tattici Nucleari logo, crafted with exquisite detail, graces the 12th fret of the guitar. Made from a combination of olive wood and walnut wood.
Paoletti Pickups are handmade and manufactured 100% in house. Wired to the guitars electronics with a 22 AWG tinned cloth wire. Each pickup is coated with a wax layer to maintain integrity and to protect from any external interference. And best of all, they're built to last!
The Signature Strato Loft HSS - Lorenzo Pasini (PTN) guarantees satisfaction for every musician looking to own a real piece of our family's history and for that one of a kind guitar that really stands out from the crowd.
You could also like:
"It's a great emotion to give a new life to our ancient chestnut, is like painting a memory of it that last in a guitar, ready to bring you years of high quality playing."

Fabrizio Paoletti - Master Builder

SIGN UP TO RECEIVE EMAIL UPDATES
New product announcements, special promotions, sales and more .
Specifications
BODY MATERIAL

Chestnut Wood

BODY COLOR

HEAVY WHITE

NECK MATERIAL

Canadian Roasted Maple

FRETBOARD MATERIAL

Pau Ferro

NUMBER OF FRETS

22

FINGERBOARD RADIUS

12"

SCALE LENGTH

648mm

BRIDGE

PAOLETTI VIBRATO BRIDGE
BRIDGE PICKUP

Paoletti Single coil

NECK PICKUP

Paoletti Rock II - 8.1K Alnico 5

ELECTRONIC

2xCTS pots + 3 way toggle switch

PICKGUARD

Italian Brass - OEM Style cut

WEIGHT

3,5 kg to 4 kg

CASE

Hard-case

MISC

Certificate of warranty & authenticity